A place like Jackson Hole, Wyoming bursts with magical landscapes, no matter the season. However, the transition from winter to spring coast the area in a glow unlike any other during the rest of the year — the sun rises earlier, the vegetation begins to sprout from the ground, and the wildlife emerges from their slumber. Jackson Hole is beautiful year-round, but here are a few of our favorite things to do as the weather begins to warm. You may fall in love with the landscape, so be ready to start searching for Jackson Hole real estate for sale and make this slice of paradise your home!
Spring skiing and hiking
With its high elevation, residents and visitors of Jackson Hole can still enjoy a day on the slopes in early spring. The mountains of the Tetons allow for heliskiing, snowboarding, and cross-country skiing. Just be sure to go with an experienced skier who knows the area well, so you don't get lost navigating the changing landscape! The
Jackson Hole Mountain Resort's Aerial Tram
opens in late May for warmer-weather skiing and snowboarding experiences. There's nothing quite like skiing through the stunning landscape in a light jacket and shorts during late spring!
Hiring a guide would be wise if this is your first time hiking in the area. A guide can map out trails for you – even break ones for you — and provide a plethora of advice about the area. The types of trees, wildlife tracks, and the overall terrain are typically discussed on guided hikes, allowing one to develop a deeper understanding and appreciation of the local wildlife.
The Hole Hiking Experience
has a talented team of guides to make your trip magical. As the season transitions from winter to spring, there are also abundant opportunities to catch a glimpse of the neighborhood's wildlife — bring your camera and keep your eyes peeled for emerging bears, frolicking elk, bald eagles, and the elusive moose!
Granite Hot Springs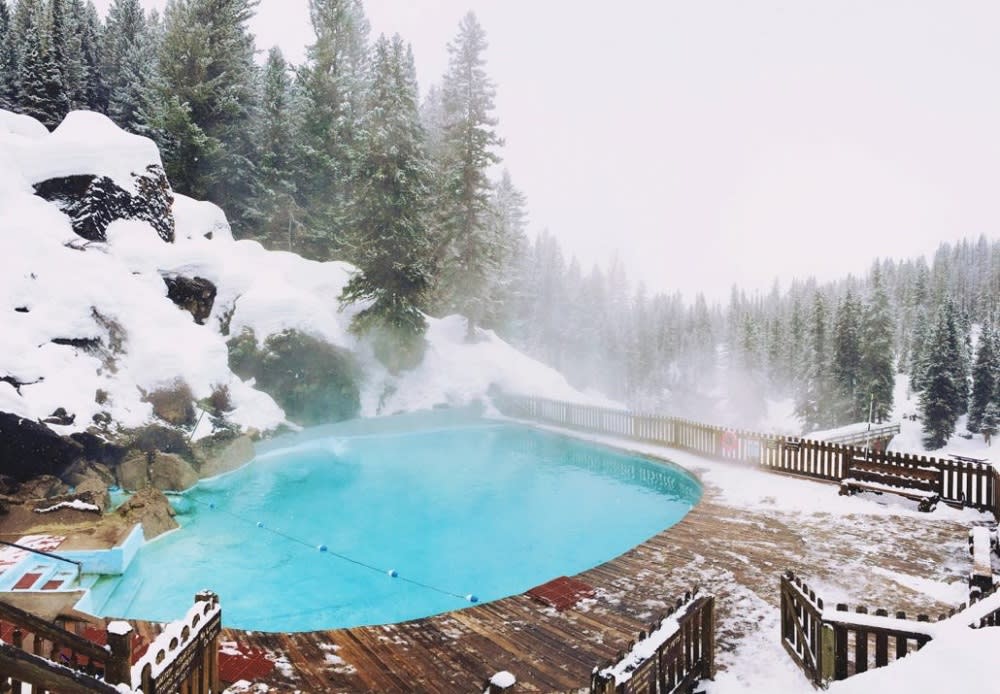 Visiting a natural hot spring is an incredible experience, and Jackson Hole's
Granite Hot Springs
features a concrete pool area for luxury lounging. Although it makes this experience feel less "wild," it's still absolutely fantastic.
Located about an hour outside of town, Granite Hotsprings Pool is the perfect adventure to experience after a long winter. Celebrate spring in the outdoors with a nice soak in a cell-phone-free section of the Bridger-Teton National Forest and welcome the warmer weather. Once there, you can enjoy a soak in the pool area for one whole glorious hour. There are limits to how many people can enter the pool at once, so enjoy the sunshine along the edge while you wait.
Art galleries
While we love exploring the outdoors of Jackson Hole, the weather can be unpredictable. It's always wise to have an indoor backup plan if you get caught in a spring rainstorm. Jackson Hole is home to an impressive sixty art galleries for residents to enjoy. The town's creative energy reflects its wild surroundings, featuring works from photography and painting to sculpture. The
National Museum of Wildlife Art
and
National Elk Refuge
showcases even more pieces.
These galleries and museums give residents an excellent place to enjoy the culture of their town in a warm, comfortable setting. From innovative modern art to classic western landscapes, there is plenty to explore in Jackson Hole's art scene during the spring.
Community festivals
Spring brings the Jackson Hole community together, and there is no better way to experience life in this idyllic neighborhood than by attending
Elk Fest
in May. As elk
lose their antlers
only to regrow them again between January and April, there is an abundance of loose antlers around the area during winter, which have steadily been collected to construct this fascinating structure.
The festival celebrates the elk and the rich history of Jackson Hole. Attend history booths from the Jackson Hole Historical Society, relax in the spring sunshine, listen to the local community band, or browse the antler sale to pick up your next decor piece.
Mark your calendar for the annual
Old West Days
over Memorial Day weekend! Old West Days celebrates the wild west in many unique ways — get ready for a lengthy parade, rodeos, Old West Brew Fest, stagecoach rides, and the highly anticipated Jackson Hole Shootout. Old West Days is a great community event that celebrates an old way of life out west and weaves Jackson Hole history into each event. Wear your cowboy boots, and don't forget to grab dinner at the famous Bar J Chuckwagon!
If you're looking to purchase a home in Jackson Hole, contact trusted local agent
Colby Murphy
for expert guidance. Bringing drive, tenacity, and resilience to your real estate experience, Colby will help you find your next dream home in Wyoming!
*Header Photo courtesy of Jackson Hole Traveler