With Jackson's proximity to ski resorts such as Jackson Hole Mountain, Snow King Mountain and Grand Targhee, it is a deloved skiing destination. It is also grants easy access to the renowned Grand Teton and Yellowstone National Parks. Here are some of the best ways to spend your time outdoors in Jackson, no matter the season!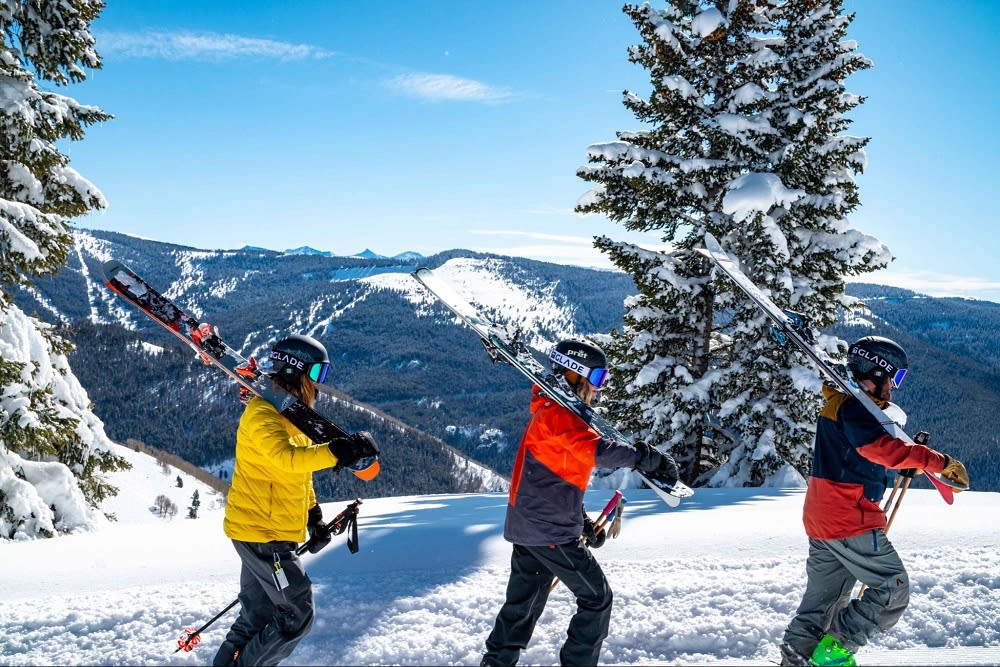 Go skiing
Jackson and the adjacent towns around it are most well known for skiing, so hitting the slopes is highly recommended.


Snow King Mountain Resort
is described as a recreational mountain resort that has skiing, snowboarding, and tubing, including lessons. They specialize in thrilling family attractions, gear rental, unique events, and the best views in the valley. There are several different attractions and hours that go along with them, and you can find them
here
on their official website. While Snow King is primarily a ski resort, it does have summer activities available as well, such as mini-golf and a bungee trampoline, just to name a few. You can expect a memorable experience at this place no matter the season.
Jackson Hole Mountain
isn't in Jackson, but it is very close. It is another ski lodge and resort, and it has both summer and winter activities available, although it is most notable for its ski hills and winter amenities. There are several different events in each season, and those are all available on their website.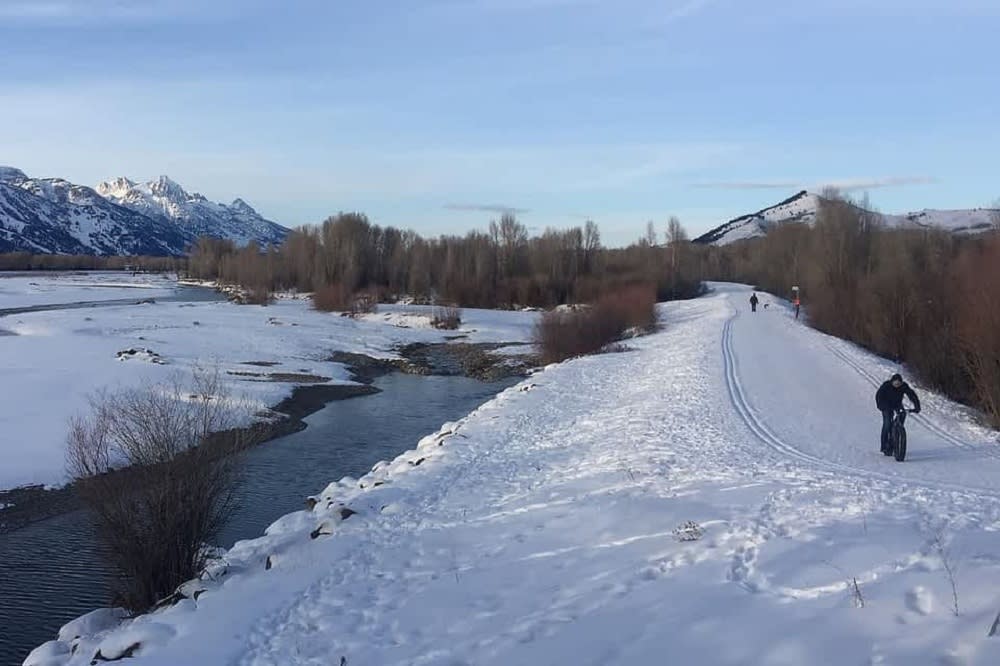 Credit: buckrail.com
Spend the day at the park
There are many parks to choose from in and around Jackson, Wyoming. To start off,
Emily Stevens Park
is 3 miles of levee trails and other amenities. It is a smaller park, but it does offer a lot of outdoor room to go for a walk by yourself or with the family. It is a great area with breathtaking views of the Teton range. Please note that dogs are allowed on these grounds, but be respectful to other patrons by cleaning up any dog waste left behind.
Just outside of Jackson in Teton is
Owen Bircher Park
, which is a park and a horse arena. The well-lit arena is used by many local ropers, barrel racers, and other equestrians, and this is all along with the scenic park. The arena itself is actually used as an ice rink for skating and hockey in the winter months. This park has BBQ pits, an ice rink, picnic areas, picnic shelters, a playground, restrooms, and sand volleyball available to play. Please note that no dogs are allowed in this park.
Rendezvous Park
, or just R. Park for short, is just a little outside of Jackson in Wilson. There are about 40 acres of beautiful mountain views, levee access, walking trails, footbridges, a bicycle path, and access to slow and fast-moving bodies of water. R. Park is said to be an ideal place to gather with family and friends to connect with and appreciate nature in its beauty. The park is open 7 days a week, year-round from dawn to dusk.
For all people who are more hike-heavy in nature, Cache Creek is great, especially for hikers that are just in the beginning stages of their hiking journey. It is about a 3.1 kilometer moderately trafficked trail loop that is close to Jackson and is good for all skill levels. The trail is primarily used for hiking and walking, and dogs are able to use the trail. They just must be kept on a leash, and visitors must pick up after them.


Phil Baux Park
is a little more of an event-heavy park for Jackson residents. It is described as a green space and a community events site, which features several climbing rocks and a play structure for kids. There are horseshoe pits, picnic areas, picnic shelters, and a playground. There are 2 boulder walls for all ages and skill levels, a swing set, and green space for recreational activities.
While not necessarily a park in its traditional sense, the
Jackson Town Square
, or otherwise formerly known as George Washington Memorial Park, is located at the center of Jackson. That is why it is most generally known as the Town Square. The park is notable for its elk-antler arches at each corner of the park, which is collected by the nearby National Elk Refuge and Boy Scouts, which are periodically rebuilt.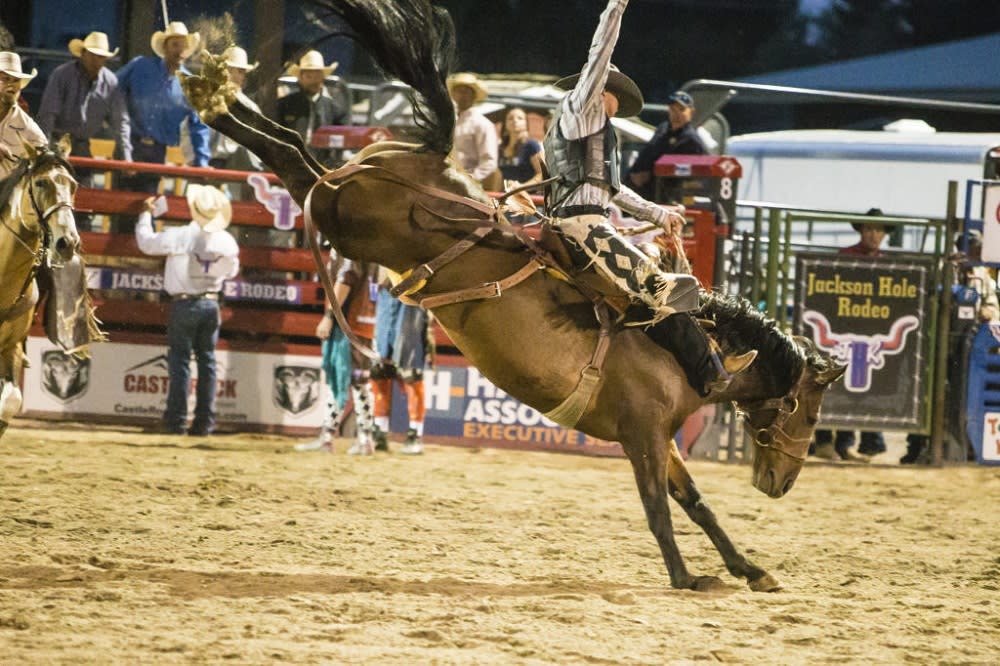 Credit: jhrodeo.com
Take a trip to the rodeo
The
Jackson Hole Rodeo
is a massive part of Jackson Hole's culture, specifically their cowboy culture, for over 100 years. Locals and tourists alike would agree that your life is not complete until you experience the legendary Jackson Hole Rodeo. This is very much a seasonal amenity of the town of Jackson, only available for certain months of the year. The rodeo starts at 8pm on Wednesdays and Saturdays, from Memorial Day weekend through to Labor Day weekend.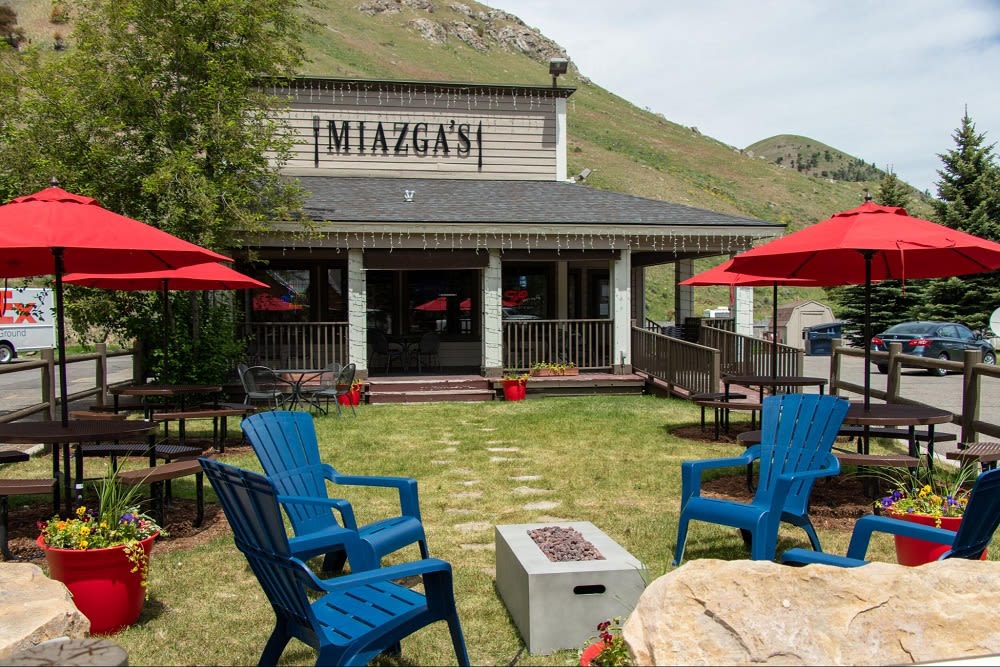 Credit: Miazga's
Grab a bite to eat
Of course, there are great places to eat in Jackson and many with patio dining. Why cut your day outdoors short when you can spend a nice, cool evening on a beautifully lit and scenic patio of a restaurant?


To start off,
Bin22
is a stylish wine bar that serves Spanish and Italian small plates, and there is a small gourmet market for its patrons to look through. The patio is quaint and best for small groups of people, but it makes people feel at home and it is definitely very nice. Additionally,
Cafe Geneiveve
is a cozy little log cabin with a pet-friendly deck and a classic American menu of classic dishes, wine, and spirits. This is the perfect place for locals who spend the day outdoors with their dog to spend their time and to boost their energy.
If you're looking for something new,
Miazga's
is described as being a modern eatery with a perfect combination of Polish and Italian comfort foods, with beautiful outdoor seating.
The Blue Lion
is known for being a charming older house that serves up creative and innovative spins on traditional American fare which includes lamb, fish, and wild game specialties.
These restaurants are just a few out of several, and they are all worthwhile places and popular amongst locals and tourists alike. They all bring something different to the table, figuratively and metaphorically, and they are all popular for different reasons.
Do you want more?
If you are interested in Jackson, WY, real estate or Jackson, Wyoming, land for sale, contact
Colby Murphy
for more information.