If you're dreaming of a new home with plentiful outdoor activities, abundant wildlife, and spectacular, towering mountains in your backyard, you'll want to check out Jackson Hole, Wyoming. Located in a valley between the Gros Ventre and Teton mountain ranges, this area of Wyoming is packed with fun things to do, incredible people to meet, and of course, some fantastic natural beauty.

Here's a list of reasons people are flocking to Jackson Hole for the finest in country living.
1. Stunning national parks
National parks are lots of fun to visit, but what if you could wake up every morning with one right in your backyard? In Jackson Hole, this can be your reality. With a variety of beautiful national parks as the backdrop to your daily routine, it's hard not to feel like you're on vacation every day.

Grand Teton National Park is a sprawling area of natural beauty covering 310,000 acres, with pristine alpine lakes, colorful mountain meadows, and of course, the epic Teton Range peaks. The park is so much more than a tourist destination; locals love having this natural wonder right next door, and they spend plenty of time enjoying all that it has to offer!

The park offers some fabulous lodging options for your out-of-town guests. If you're looking to immerse yourself in the wilderness, you can even plan a camping trip under the stars. Explore 230 miles of hiking trails, where you'll likely catch a glimpse of some Wyoming wildlife, from bison to moose to bears! Take a fishing trip on the Snake River, a famous destination for fly fishing. Bring the whole family in the car for a scenic drive along Jenny Lake or Signal Mountain Summit Road.

Also nearby is the stunning Yellowstone National Park, a famous wilderness recreation area located atop a volcanic hotspot. This is an incredible place to witness something few people see in their lifetimes. Hydrothermal wonders like hot springs, geysers, and mud pots are plentiful—and active!—throughout the beautiful park. Take a horseback ride on a guided tour with views of the beautiful Wyoming scenery, or choose from one of Yellowstone's exhilarating hikes.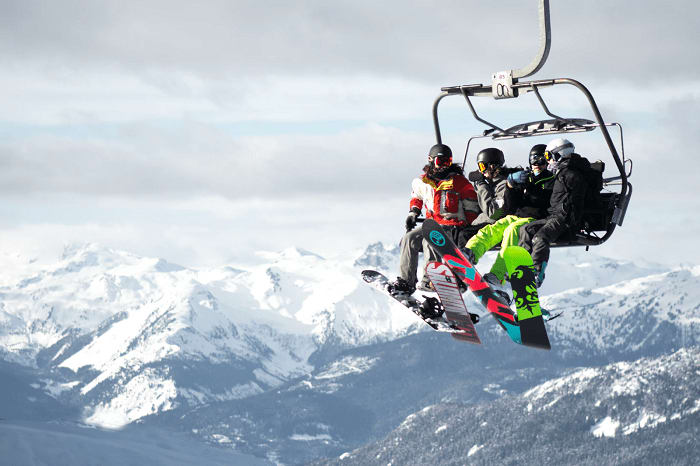 2. Skiing destination
It's no secret that Jackson Hole is a skier's dream. Visitors flock to this area every winter to hit the slopes and experience a snowy vacation in the mountains, but for Jackson Hole residents, these fantastic ski resorts are just down the road! Skiers of all ages and skill levels have a blast on the mountains.

With an average of 450 inches of snowfall each year, Jackson Hole is a skiing paradise. The Jackson Hole Mountain Resort offers the quintessential ski experience with spectacular views of the Tetons as well as a heart-pounding vertical drop of over 4,000 feet. You'll also want to check out resorts like Grand Targhee (less crowded and located right in the Caribou-Targhee National Forest!) and Snow King (known locally as "the Town Hill," a great place to play with friends and family).

For cross-country skiers, head four miles south of Jackson Hole Mountain Resort to experience a fun day at the Teton Pines Nordic Center. If you're new to the sport, you can take lessons here and pick up the skills quickly! Get out and experience the peaceful wilderness with a backcountry ski trip—Exum Mountain Guide Service provides a variety of experiences to meet every skier's needs.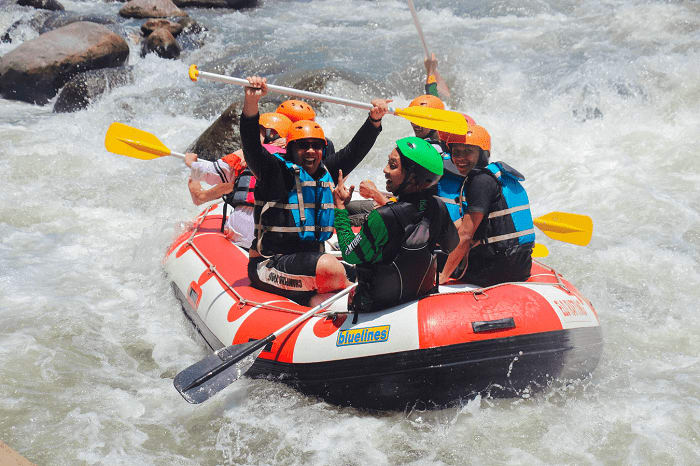 3. Summer vacation activities—at home!
When you live in Jackson Hole, you don't need to travel far away to have thrilling experiences, whether it's a breathtaking mountain hike, a weekend of camping in the wilderness, or an exciting whitewater rafting trip. All these great adventures can happen here at home!

Scale the high alpine terrain at Via Ferrata, a guided climbing experience that will take you to new heights—literally! This adventure is great for climbers aged ten and older and will guide you up granite walls, above the valley floor, and across suspended bridges.

Feel at home in the Wild West by taking a trail ride at a ranch, grabbing a chuckwagon dinner at Bar T Five, or take a trip to the Jackson Hole Rodeo.

Want to take to the water? Get your heart pounding on a fast-paced 8-mile whitewater rafting trip down the scenic and wild Snake River Canyon. If you're looking for something a little more relaxing, take a scenic and relaxing float trip down Snake River; this is a great way to simply sit back and enjoy the views of nature and wildlife. Also, consider taking a kayak trip through Yellowstone—head out with your family for the day, or plan a multi-day adventure!
4. Incredible restaurants
After a long day exploring all the outdoor adventures Jackson Hole has to offer, you'll want to sit down and enjoy a fabulous meal. Fortunately, the area has no shortage of amazing dining experiences! Try local favorite Snake River Grill, which has been in operation for over 25 years. Its elegant and rustic dining room is the perfect place to relax fireside with friends while enjoying treats like wood oven-fired focaccia, steak tartare pizza, or a tasty handcrafted cocktail.

Trio is another favorite, and it is located in the town square and features an open kitchen to watch the talented chefs cook up delicious meals. Try fun cocktails along with incredible entrees like the wood-fired half chicken or the grilled wagyu New York strip steak. Enjoy some decadent French-American bistro cuisine at Rendezvous Bistro, which serves up escargot topped with garlic herb butter and is known for its fantastic raw bar.

Looking for something a little more low-key? Take your friends to enjoy a delicious brunch at Cafe Genevieve, located in a picturesque and historic log cabin. Grab one of Pearl Street Bagels' fourteen varieties of East Coast-style bagels for breakfast, or enjoy a pizza at Pinky G's—featured on the Food Network's Diners, Drive-Ins, & Dives.
5. Great place to raise a family
Ranked by Niche as one of the top five best places to raise a family in Wyoming, Jackson Hole is an excellent area for children to grow up. Kids love the natural playground that the national parks provide, and many grow up to be outdoorsy adults, well-versed in hiking, fishing, biking, camping, and of course, skiing.

Due to the small and close-knit nature of the Jackson Hole community, children can make friends easily and participate in fun activities like sports and clubs. Aside from exciting wintertime activities, children in Jackson Hole love participating in water-based activities like water skiing or boating on the nearby lakes.

The area is also known for its excellent school system. Jackson Hole residents send their children to schools within the Teton County School District, which is highly rated and educates just under 3,000 students. Some of the highest-ranked schools include Wilson Elementary, Alta Elementary, Jackson Hole Middle School, and Jackson Hole High School.
6. Community feel
Many people come to Jackson Hole for the natural wonders and exhilarating skiing opportunities but stay for the supportive community. Exciting events happen year-round in Jackson Hole; celebrate the holiday season with a festive town square lighting or take the kids to meet Santa Claus at Santa on the Square! Celebrate the annual Old West Days Festival in May with other community members. Typical events include a chili cook-off, a parade, a music festival, and the Jackson Hole Brewfest.

If you're an art fan, you'll love the Jackson Hole Fall Arts Festival, a thrilling cultural experience packed with exhibits, artist meet-and-greets, and auctions. Athletic residents can also get a great workout by participating in the Jackson Hole Marathon—the course is stunningly beautiful, taking runners through the Valley and ending at the base of the Teton Mountain Range.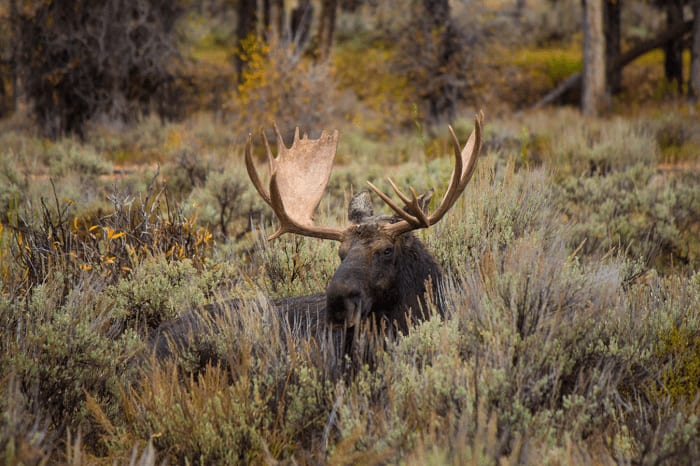 7. Abundant wildlife
Many people are accustomed to the presence of squirrels or deer in their backyard, but what about elk or bison? Living in Jackson Hole is an amazing way to get up close and personal with some fantastic animals you might never get to see otherwise. Of course, you'll want to respect these majestic creatures' space; they can be carefully observed from a distance at places like the National Elk Refuge. Known as the largest concentration of wintering elk in the world, this refuge is home to over 5,000 animals—visit them by taking a wintertime sleigh ride narrated by a knowledgeable guide. This can make for a romantic Valentine's Day date if you're looking for something a little more extravagant than dinner and a movie.

Visiting the nearby national parks is also a great way to experience wildlife. Yellowstone is home to a wide variety of fascinating animals, like gray wolves, bison, bald eagles, trumpeter swans, and black and grizzly bears.

Browsing Teton Village homes for sale? If you need assistance searching for Jackson Hole luxury homes, contact real estate agent Colby Murphy today.