Jackson, Wyoming, is a stunning town rich in outdoor recreation, culture, and community values. Part of preserving the beauty that is Jackson Hole are local initiatives that support the community and its efforts. These incredible businesses continually give back to their community, ensuring the love for their locality is felt by residents and visitors alike.
Eat & drink for a cause
Hand Fire Pizza serves up delicious pies adorned with organic herbs and parmesan, but that is only one way the company serves the community. This eatery hosts a weekly Pizza for a Purpose event. These Tuesday night fundraisers allow local nonprofit organizations to promote their missions. For every pizza sold in-house or for takeout on Tuesday nights, a portion of the profits supports that night's featured nonprofit. Talk about a pizza you can feel good about eating! Some of the past organizations supported through Pizza for a Purpose include Energy Conservation Works, Friends of Pathways, and Teton Habitat for Humanity. Enjoy a fabulous pizza and support your community at Hand Fire Pizza.

Jackson Hole Farmers' Market hosts an array of local and regional vendors every Saturday from 8 a.m. to 12 p.m., showcasing the finest local produce, meats, honey, flowers, and artisanal products that Jackson has to offer. The market's mission is to make local and sustainable food accessible to residents in a social setting while supporting small farms. Every week, vendors donate 10% of their daily sales to a specified Jackson community nonprofit organization. Some past organizations are the Senior Center of Jackson Hole, Jackson Hole Food & Wine, and Teton Youth & Family Services. Acquire farm-fresh groceries and give back with this treasured local farmers' market.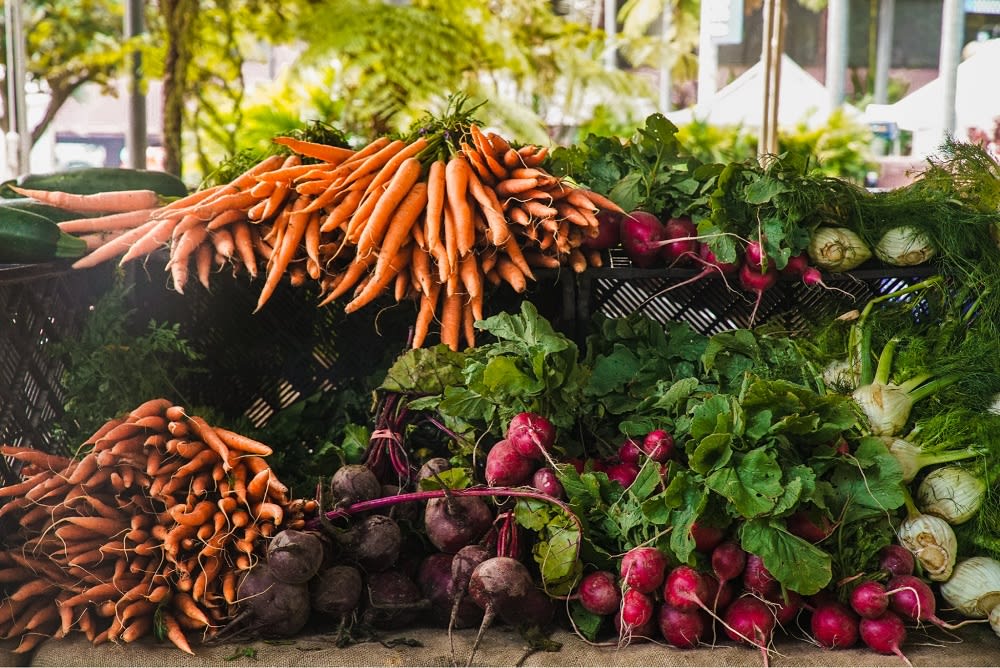 Roadhouse Brewing Co. is much more than a place to drink a tasty IPA and snack on housemade beer pretzels. This brewery is dedicated to being the place for locals to socialize and have a great time supporting Teton County Search and Rescue's imperative work. This organization provides emergency search and rescue services for Teton Valley and surrounding areas. Jackson Hole is a beautiful place with unlimited access to outdoor recreation. With that comes the potential for danger, and TCSAR is educating the community and rescuing those in need of their emergency services. Grab a beer and know that you're aiding your community through safety education and rescue missions.

Snake River Brewing makes various award-winning lagers and ales and Wyoming-made sustainable beer cans. Currently, they are selling merchandise online and canned brews in Boise, Idaho, and several cities in Montana. The brewpub is being remodeled and is set to open for service in early summer 2021. Besides having fantastic microbrews, Snake River Brewing is lending support to the Snake River Gateways Campaign. For every pale ale purchased, Snake River Brewing will donate a portion to support the SRG Campaign. Preserving nature and water quality is the crucial work of this campaign. Drink with purpose at this fine establishment.

Melvin Brewing does more for the community than just serving yummy homemade food at the Melvin Mothership and shipping their famous beers. They support local Wyoming and national nonprofits by providing volunteers, donations, and brews for fundraising events. This remarkable company works with an array of nonprofits, dedicating their time, efforts, and beer to building and celebrating the community they cherish. Some of the organizations Melvin Brewing supports are Teton FreeRiders, Jackson Hole Ski & Snowboard Club, and Teton Artlab. The company's commitment to worthy causes makes them an excellent choice for your next home beer delivery, or you can stop by their Alpine Taproom for tasty fare and drinks.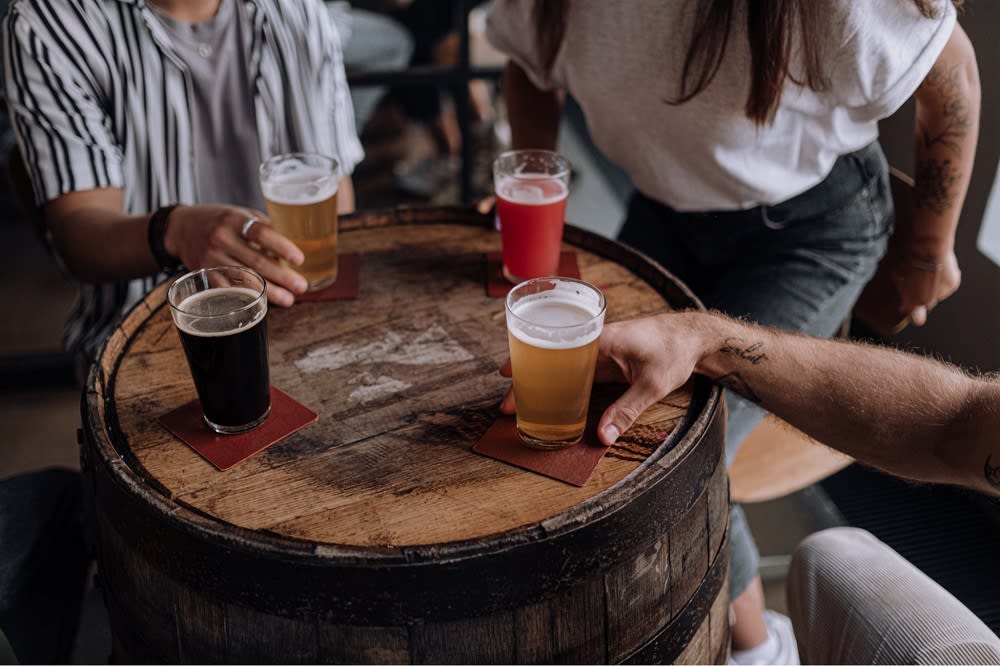 Festivals that fundraise
The biannual, three-day, 21+ jubilation Jackson Hole Food & Wine showcases the food and beverages of the Jackson Hole community. Feast on local restaurant fares and sip sumptuous wines in a fun social setting. Giving back is a massive part of this festival's purpose. Over $40,000 in proceeds from the event have been distributed to local nonprofit organizations through the years. In 2020, this fantastic festival supported Hole Food Rescue, a nonprofit distributing excess food from markets, bakeries, farms, and local businesses to at-risk, in-need inhabitants of Teton County. With the help of over 85 volunteers, Hole Food Rescue disburses on average 5,000 pounds of nutrient-dense food to approximately 1,000 residents in need each week. Please donate directly to the festival, or simply bask in the biannual festivities with awesome eats and vino, all the while knowing your dollar means more than just having a good time.

The Farm to Fork Festival is a family-friendly all-day event held at the Teton County Fairgrounds. Celebrate all things food, farms, and community at this local event. This festival is hosted by Slow Food in the Tetons and the Farm-to-Consumer Legal Defense Fund. Slow Food connects the community with local farm-fresh food through its year-round farmers market, online food marketplace, small regional farms, gardening, and cooking classes for children and adults. The FTCLDF protects farmers' rights and encourages local consumers to build rapport with farmers by getting their healthful food directly from the source. Support these esteemed nonprofits through donations or by attending the Farm to Fork Festival.
(Credit: JH News and Guide)
Charitable events
Known as Mr. and Mrs. Old Bill, this amazing philanthropic couple dreamed of a way to give back to the community and support local nonprofit organizations. Old Bill's Fun Run is an annual event that raises money for countless nonprofits through a 5K and 10K run/walk and their spirited Diaper Derby. Winners of the races receive prize money that they can donate to the nonprofit of their choice. In 2020 alone, the Old Bill's event raised over $15 million from 4,349 donors. Over twenty years, this event has raised $189 million for the Teton County community. These generous funds help feed the needy, support the elderly, heal the sick, teach children to read, conserve wildlife, and build affordable housing, thus making for a better, brighter future for the Teton County community. This event has supported charities such as Cultivate Ability, Hole Food Rescue, Jackson Hole Children's Museum, and Jackson Hole Therapeutic Riding. Put your running shoes on and get to Old Bill's Fun Run for a friendly way to fundraise for your favorite charity.

The Art Association of Jackson Hole holds its annual outdoor Art Fair in Jackson Elementary Park during the summer. This three-day event features local and national artists selling their fine art and crafts of mixed media, including paintings, ceramics, jewelry, photos, furniture, and more. There are food vendors selling eats, and there are youth activities to participate in throughout the artsy weekend. All of the proceeds from the $5/head event go toward outreach programs and art education. This family-friendly event supports local art students of all ages, furthering art education and community culture.

Paws of Jackson Hole is an incredible animal welfare organization that supports pets and their people. Through nine programs in three communities, they have helped shelter pets, distribute medical care, train dogs, provide spay and neuter services, and save abused animals, thereby assuring our furry friends are safe and healthy. The Paws team puts on an annual Tuxes & Tails event, a night of delicious food, cocktails, raffles, a live auction, and a DJ. Community members enjoy an exciting night of dancing and activities while funds are raised for Paws' important work. Although the event was postponed this year due to COVID-19 restrictions, you can look forward to enjoying the dachshunds in dresses and dalmatians looking dapper in 2022, all while supporting an incredible cause.

Lockhart Cattle Company is a grass-fed beef ranching company, supporting a healthier, more sustainable model for raising cattle and feeding the community. This business throws the annual Lockhart Ranch Party, donating their ranch grounds and plenty of grass-fed beef for a festivity of tasty eats and live music by Canyon Kids. Proceeds from the event go to Slow Food in the Tetons' various endeavors to bring quality local food to the community. Slow Food has a weekly Summer People's Market where local inhabitants can buy fabulous food through direct contact with farmers, ranchers, and sustainable food distributors. Slow Food also invests in cooking classes, an online marketplace, a farm stand, and a community garden. Come out to the Lockhart Ranch Party for savory grass-fed beef, and support production and education of growing the local and regional sustainable food economy.

Touch-A-Truck gives children of all ages the chance to explore various vehicles, from firetrucks to bulldozers. This donation-based one-day event allows for play, creation, discovery, and exploration, all curated by the Jackson Hole Children's Museum. Kids get to touch all the levers, switches, and gears on law enforcement, emergency, food service, and recreational vehicles, drawing kids closer to the people who build, serve, and protect their community. This is a unique and intriguing opportunity for your children, and it's free!

If you are enthralled by the community outreach in Jackson, Wyoming, and are looking for Jackson, WY, real estate, don't hesitate to contact me. With my professionalism and values, you are sure to have a pleasurable and successful real estate experience.