Despite the chaotic and unpredictable national economy over the past few years, the housing market in Jackson Hole, Wyoming has continued to rise. Featuring some of America's most sought-after nature and scenic views, taking advantage of current low-interest rates and investing in residential property in the area is a wise choice for anyone in the real estate market.
The Jackson Hole housing market is great right now
Conventional fixed-rate thirty-year mortgages in Wyoming currently have an interest rate of just 3.375%. That's certainly noteworthy, but even that pales in comparison to the fifteen and ten-year mortgage rates which are 2.5% and 2.375% respectively. Buying now means you'll pay less interest on your Jackson Hole Luxury home, making it an even stronger investment.
Jackson Hole realty continues to skyrocket in value, more than doubling in less than three years. The median listing home price is $2,095,000 - over a million dollar increase from as recently as May of 2019. Not only would a second home in Jackson Hole provide you with a coveted residential property surrounded by beautiful scenery, but a great investment as the increase in value shows no sign of slowing down.
Throughout the economic uncertainty of the last two years, the Jackson Hole housing market has continued to thrive. Imagine buying your Jackson Hole luxury home, enjoying it for the next ten or so years, and then deciding you're ready to move on. Picture how much the home will be valued then, and the profit that you'd be able to make by selling.
Why Jackson Hole, Wyoming?
The old adage is "location, location, location" and you likely won't find a better location to buy a luxury second home in than Jackson Hole, Wyoming. If you want your second residence to be a place where you can unwind from the stress of urban living, this town is the ideal location.
Nestled in the northwest corner of Wyoming, Jackson Hole is surrounded by the country's most beautiful mountains and nature. Just a short drive from Grand Teton National park, Yellowstone National park, and Shoshone National Park - just to name a few - Jackson Hole realty gives you the inside track to regularly visit these national treasures which are the envy of the world. More than 2.6 million people visit Jackson Hole every year, ensuring your Jackson Hole luxury home will only continue to increase in value.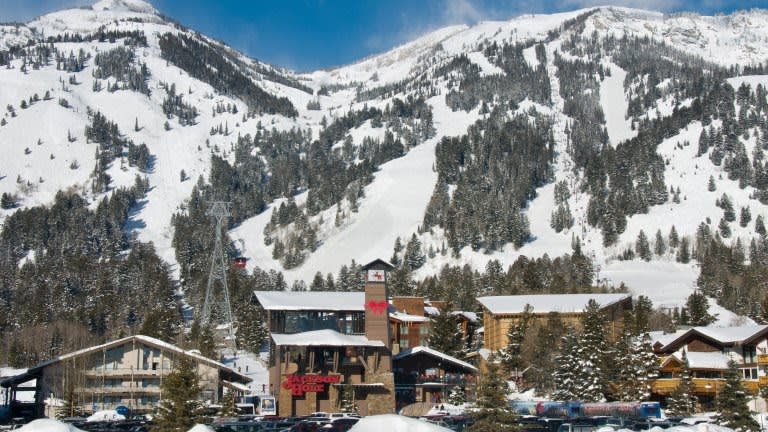 Jackson Hole Mountain Resort, Credit: Jackson Hole Central Reservations
It's the perfect place for the outdoorsman, giving more opportunities to get into the fresh air and enjoy the best thrill-seeking activities anywhere in the country. With winter just starting, now is the perfect time of year to explore some of the incredible alpine skiing at Jackson Hole Mountain Resort or Snow King. With flat tire biking across snow-capped mountains or even sleigh riding, Jackson Hole truly does offer unique experiences you'd be hard-pressed to find anywhere else. If you're planning to get away for a summer vacation, Jackson Hole has much more than snow activities with rafting, hiking, camping, rock climbing, and horseback riding. One highlight, in particular, is unwinding in the tranquility of a local natural hot spring - a special experience in nature not to be missed.
For those seeking a more relaxed experience less centered around athletic activities, Jackson Hole real estate offers a great place to escape the hustle and bustle of everyday life. While a big tourist destination, Jackson Hole only has a population of just over 10,000, giving it a peaceful small-town feel to complement its luxury accommodations.
This sustainably minded town offers great shopping in Jackson's town square. Find everything from outdoor gear to art and jewelry crafted by local artists. Jackson Hole's unique and rustic dining scene has something for everyone as well with seasonal cocktails to vegan waffles prepared by world-class chefs. Whether you're an adventure seeker, someone who seeks respite from big city life, or a restaurant aficionado, a Jackson Hole luxury home is right for you.
Benefits of renting out your Jackson Hole luxury home
Many homeowners are hesitant about investing in a second home as they don't know how much use they'll be able to get out of it. Some think they won't spend enough time there to justify the expense, but recent significant changes in the tourism industry have increased the convenience of renting out your home. Apps like Airbnb have made it easy for you to turn your Jackson Hole luxury home into a form of passive income. Spend all the time you desire to enjoy nature with your family at your property, and when you're not using it, simply rent it out. As previously stated, the Jackson Hole tourism industry is huge, and temporary stays will always be in high demand. Jackson Hole luxury homes on Airbnb are currently being rented for upwards of $300 per night.
Between the current interest rates, skyrocketing home values, and the opportunity to make money by renting out your property, this is the optimal time to buy a Jackson Hole luxury home. Jackson Hole realty looks to continue increasing in value by 16.7% year to year so they will never again be as affordable as they are right now. It's not only an incredible place to spend your time but a solid investment. For more information on buying second homes in Jackson Hole, please don't hesitate to reach out to trusted local agent Colby Murphy for professional guidance.