Jackson Hole, the Wyoming valley between the Gros Ventre and Teton Mountain Ranges, is known as one of the country's best ski destinations. This stunningly scenic area encompasses towns like Teton Village, Jackson, and Wilson, as well as the world-class Jackson Hole Mountain Resort. With national parks just a quick drive away and skiing opportunities in every direction, Jackson Hole is the perfect place for a winter getaway.

After a long day on the slopes, you're likely to work up an appetite. Fortunately, Jackson Hole has plenty of fantastic restaurants to offer! Here's a list of the can't-miss fine dining experiences in Jackson Hole.
Beloved by Jackson Hole locals, this New American fine dining restaurant has been in operation for more than 25 years. Relax inside Snake River's elegantly rustic dining room, which features a roaring fireplace, stunning glass light fixtures, and cozy booths—you'll feel right at home even on the coldest nights. It's the perfect place to share a meal with your family and friends.

Choose a starter to share with your table. With choices like wood oven-fired focaccia served with Lark's Meadow cheese dip or steak tartare pizza topped with garlic aioli, capers, parsley, and red onions, you really can't go wrong! Snake River Grill is also known for their extensive cocktail menu and well-stocked bar. On a snowy day, try Snake River Grill's signature hot cider, which blends apple cider with Wyoming whiskey "small batch" bourbon, Italian honey, fresh pear, clove, anise, rosemary, and lemon.

For your main course, the incredible meat selections can't be beat. The braised Australian lamb shank is served with a creamy polenta, morning dew mushrooms, and root vegetables. Adventurous eaters can order the New Zealand elk chop, which comes with grilled sweet potato, roasted cabbage, pear, and salsa macha—a unique dining experience, to be sure!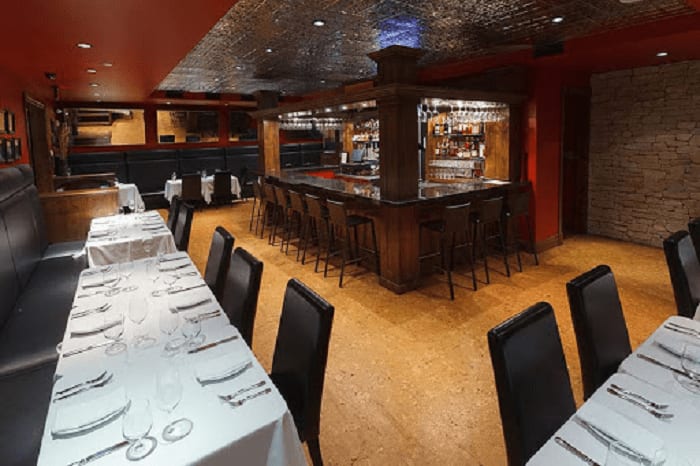 Credit: Jackson Hole Restaurants
Craving a delicious steak dinner? The Restaurant at White Buffalo Club is the place for you! Known as Jackson's finest steakhouse, this fantastic restaurant describes its atmosphere as "subterranean speakeasy" and definitely lives up to the hype. The main dining room is dark and sleek, with wood floors, old Chicago-style decor, custom handcrafted Douglas Fir tables, and an inviting granite bar.

If you're holding a private party or meeting up with a large group, check out The Boardroom, White Buffalo Club's elegant dining space, where friendly waitstaff cater to your needs. The room is even equipped with wireless internet and teleconferencing capabilities, making it a great place to hold your next business function or conference! There's also The Fireplace Lounge, a comfortable area just off the dining room that features a wood-burning fireplace and custom wooden tables. It's the perfect spot to grab cocktails with friends or enjoy a televised sporting event.

With their spectacular menu, it's no surprise that White Buffalo Club's restaurant frequently wins awards from OpenTable, TripAdvisor, and more. Start your dining experience with a steak tartare small plate featuring smoked shoyu, green peppercorns, leeks, shallots, crispy garlic, and cured egg yolk. Gourmet enthusiasts will want to try the fantastic bone marrow topped with herbed bread crumbs, pickled shallot relish, and scallion grass.

While White Buffalo Club offers some fantastic entrées—the truffle linguine topped with cherry tomatoes and romanesco, or the Loch Duart salmon filet with Mediterranean couscous, to name a few—the steaks here take center stage. All of the restaurant's steaks are sourced from the finest local purveyors, seasoned with Himalayan salt and tellicherry pepper, and topped with port butter. The chef's prime cuts include an 8-oz. filet, 12-oz. New York Strip, and a 14-oz. ribeye; you may also want to try the Snake River Farms 10-oz. bavette steak or 777 Ranch's 6-oz. bison filet.
Located inside Jackson's boutique Anvil Hotel, Glorietta Trattoria is known as the town's finest Italian eatery. The dining room is elegantly decorated without feeling stuffy, featuring warm wooden highlights, a tasteful tile floor, and plenty of natural light. A large wood-burning grill sits in the middle of the restaurant, creating a comfortable, homey space.

Whether you're meeting up with friends for drinks or getting ready to enjoy a fabulous meal, you'll want to check out Glorietta Trattoria's fantastic cocktail menu. Indulge in a flavorful and light aperitivo cocktail like the Sundance, made with Fino sherry, vodka, carrot, blood orange, and lemon. Stronger drinks, like the mezcal, vermouth, and sage Tower Three, are also available. A glass of wine pairs well with Glorietta's antipasto board, a beautiful presentation of delicious local meats and cheeses.

Start your dining experience with a salad selection from Glorietta's insalata menu; the classic Caesar features torn croutons, shaved parmesan, white anchovy, and lemon, and there's also a beautifully crafted Tri Colore salad filled with kale, radicchio, winter vegetables, pecorino, and topped with a walnut-lemon vinaigrette.

For your main course, indulge in one of Glorietta's handmade pasta dishes. There's fettuccine carbonara served with pancetta and grilled mushrooms, and campanelle piccata, topped with capers, lemon, and rabbit confit. Diners also love the raviolo d'uovo (egg yolk stuffed ravioli) and the delicious spaghetti topped with basil, parmesan, and olive oil—plus, you can add on meatballs if you choose!

Finish your evening with a decadent dessert—perhaps Glorietta's house-made gelato or a sweet tiramisu—perfectly paired with a cup of coffee.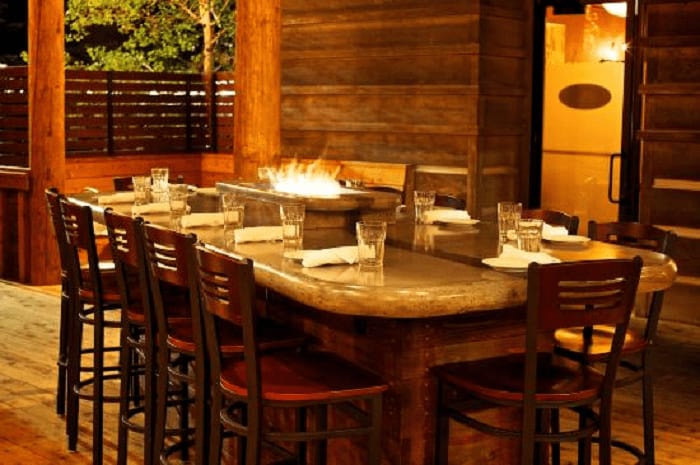 Credit: Tripadvisor
One of Jackson Hole's most popular fine dining establishments, Rendezvous Bistro serves classic French-American bistro food in a welcoming and comfortable atmosphere. This bistro has been serving both locals and tourists for over almost twenty years, and is well-known for their friendly staff and delicious cuisine prepared by chef Jaime Perez.

Start your meal with one of Rendezvous's delicious appetizers, such as escargot served with cremini mushrooms and garlic herb butter or the tasty fried calamari paired with spicy marinara sauce. On a cold winter day, enjoy a cup of French onion soup gratin. Rendezvous is also known for their spectacular raw bar—try the oysters on the half shell or the tuna tartare, which is served with avocado, shiitake mushrooms, chili garlic sauce, and wontons.

For your entrée, enjoy decadent dishes cooked to perfection, from the steak frites (a prime New York strip steak served with bearnaise butter and house french fries on the side) to the five- spice roasted duck breast prepared with confit potatoes and sauteed kale and topped with a red wine cherry sauce. Locals particularly love Rendezvous's Bistro Meatloaf, an upscale twist on a classic favorite. It's served with a rosemary and mushroom sauce, broccolini, and mashed potatoes.
Deep in the heart of Jackson's town square, Trio has been a local staple since they opened in 2005. The American bistro restaurant features an open kitchen so you can watch talented chefs Will Bradof and Paul Wireman at work! The atmosphere at Trio is fun and relaxed—the perfect place to host your next party or event.

Trio offers a fabulous wine list with everything from Champagne to trendy new white wines to classic reds. Beer and cider options are also available, as are a host of fun cocktails, including the Winter Margarita (made with Don Julio Blanco tequila, lime, Bravo curacao, and agave) and the quintessentially Wyoming-inspired How the West Was Won (made with Outryder Wyoming whiskey, carpano antica, angostura bitters, and orange bitters). Pair your drink with delicious bleu cheese waffle fries, arugula salad, or the unique BLT soup—a bacon-infused tomato soup made with arugula pesto, bacon lardons, and garlic croutons.

For your main course, Trio offers a host of fabulous dishes. If you're in the mood for steak, try the grilled flat iron or grilled Wagyu New York strip, both served with roasted tomato chimichurri, chive crème fraîche, and truffled fingerling potatoes on the side. The wood-fired half chicken is the perfect dish for a cold day, served with baby kale, roasted butternut squash, marinated onions, and topped off with a decadent garlic paprika glaze and herbed butter. Other fantastic selections include an artichoke risotto, Trio burger, and the veal chop.

If you're in the mood for pizza, Trio has plenty of choices—the prosciutto and arugula pizza, made with garlic oil, prosciutto di parma, mozzarella, arugula, and Parmesan, is a crowd favorite! There's also a flavorful pesto and burrata option, prepared with a unique kale hazelnut pesto, green olives, artichokes, and a balsamic reduction.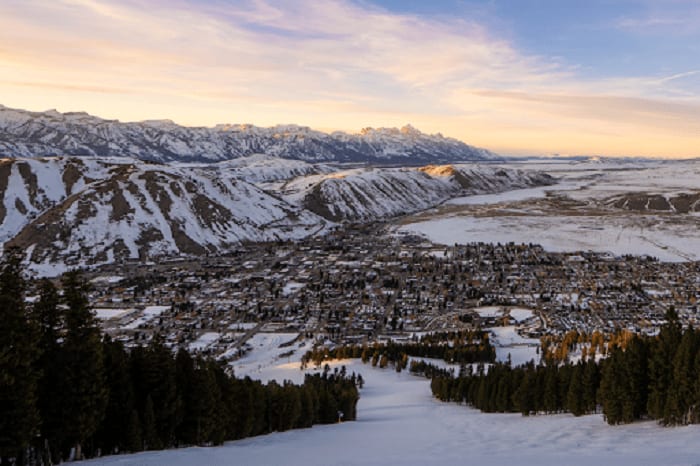 With fantastic restaurants, beautiful mountain views, and world-class ski opportunities, there's nowhere quite like Jackson Hole, Wyoming. Browsing Teton Village homes for sale? If you need assistance searching for Jackson Hole luxury homes, contact real estate agent Colby Murphy today!
Frequently Asked Questions
What are some of the top-rated fine-dining restaurants in Jackson Hole?
Some top-rated fine dining restaurants in Jackson Hole include Snake River Grill, The Restaurant at White Buffalo Club, Glorietta Trattoria, Rendezvous Bistro, and Trio.
What type of cuisine is offered by Snake River Grill?
Snake River Grill offers New American cuisine, with a wide selection of dishes, including wood oven-fired focaccia, steak tartare pizza, braised Australian lamb shank, and New Zealand elk chop. The restaurant also has an extensive cocktail menu.
What is unique about The Restaurant at White Buffalo Club?
The Restaurant at White Buffalo Club is renowned as Jackson's finest steakhouse. It features a "subterranean speakeasy" atmosphere, offers an award-winning menu, and sources its steaks from the finest local purveyors.
Can you describe the atmosphere and food offered at Glorietta Trattoria?
Glorietta Trattoria, located inside the boutique Anvil Hotel, offers a fine dining experience with an elegant, comfortable ambiance. The menu focuses on Italian cuisine, including handmade pasta dishes and an antipasto board featuring local meats and cheeses.
Are there any popular French-American bistros in Jackson Hole?
Yes, Rendezvous Bistro is a popular French-American bistro in Jackson Hole. Known for its welcoming atmosphere, it serves classic French-American bistro food and has been a beloved establishment for almost two decades.