One of Wyoming's most famous regions is Jackson Hole. As a go-to vacation destination for people all over the country, the community truly has something for everyone. Nature lovers find themselves in paradise thanks to the abundance of beautiful outdoor destinations, from roaring rivers to mountain slopes. From rafting to fishing to horseback riding to skiing, there's no shortage of adventurous excursions to embark on in Jackson Hole.
As a charming community with so much to offer its residents, it's no shock that the culinary scene in Jackson Hole is top-notch. From family-friendly eateries with casual settings to fine-dining restaurants with impeccable service, the neighborhood has it all. An array of international cuisines are served throughout its trendy establishments, and the upbeat ambiances at its community hotspots make dining out in Jackson Hole an excellent way to spend a few hours.
To give your taste buds a treat on your next outing in Jackson Hole, check out one of these top five restaurants in the community.
The Blue Lion
160 N Millward St., Jackson, WY 83001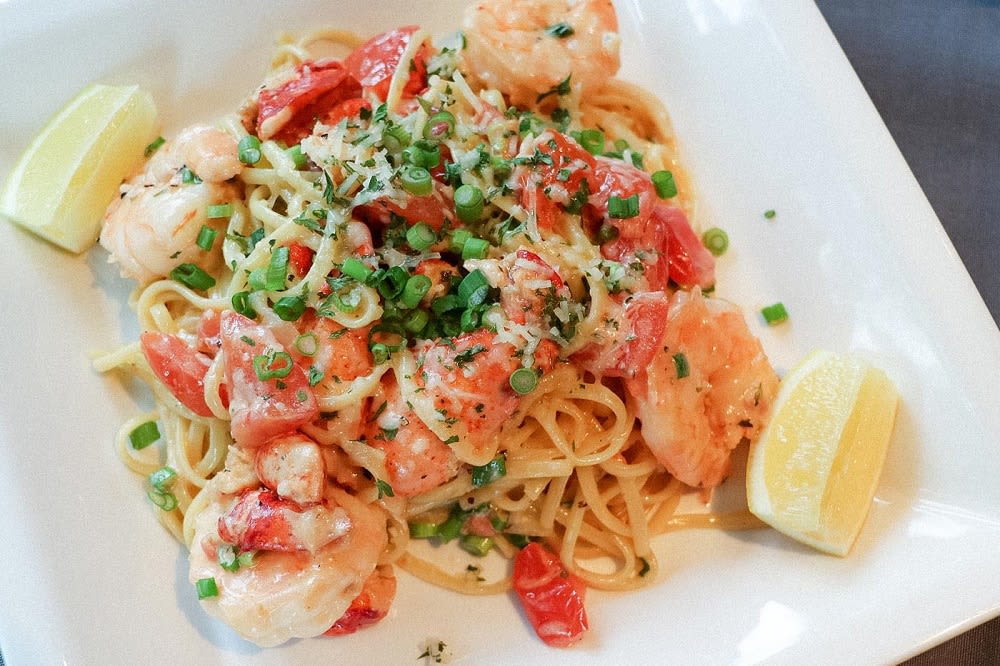 Photo courtesy of The Blue Lion
Located in a historic house purchased back in 1978, The Blue Lion perfectly captures the charm of Jackson Hole and its local culture. Its old-world ambiance creates a vibe that is reminiscent of a different era while being trendy at the same time. The menu has something to offer for any eater, serving up a combination of classic and inventive American dishes. Their wild game is cooked to perfection with a tender texture, offering no shortage of prime meats and seafood to order. For those who enjoy lamb, their rack of lamb is one of the hottest meals on the menu.
Café Genevieve
135 E Broadway, Jackson, WY 83001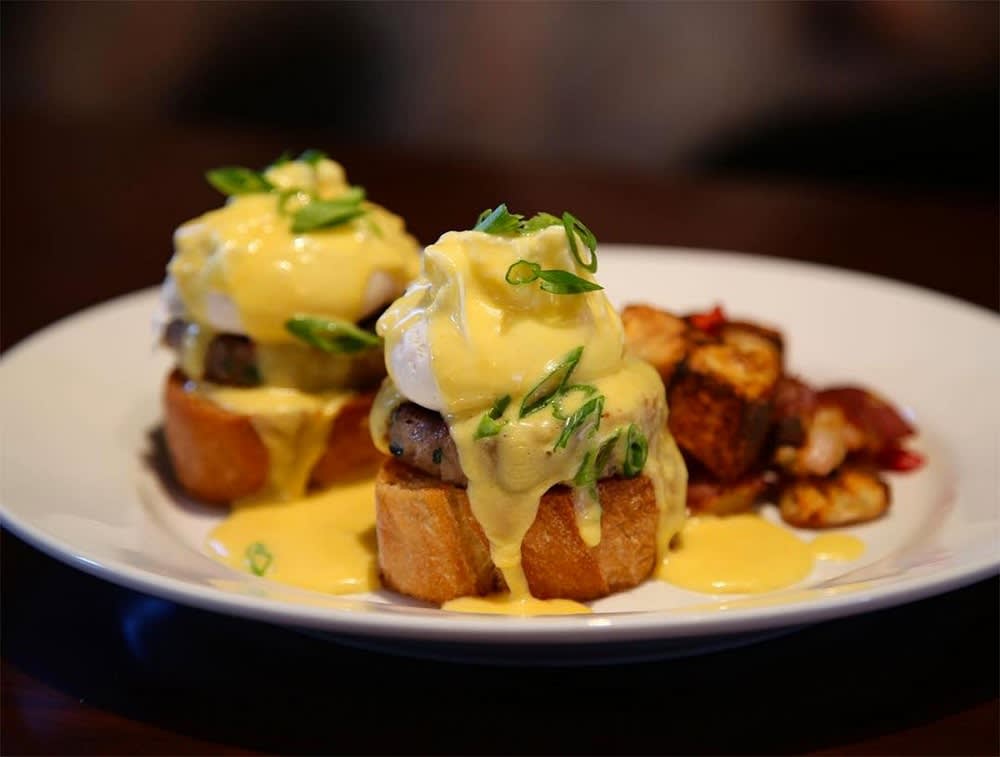 Photo courtesy of Café Genevieve
If you're on the hunt for Jackson Hole luxury homes and ask locals where to eat, there's a good chance Café Genevieve will be one of the top answers you're given. This lovely restaurant boasts hometown charm in every way, and its friendly service and down-to-earth atmosphere make everyone feel relaxed and welcome as soon as they walk in. Many beloved American comfort foods can be found on the menu, such as corned beef hash, fried chicken and waffles, and grilled cheese sandwiches. They're especially known for serving impeccable bacon, so be sure to order a side of the crispy meat no matter what meal you're getting. The outdoor patio is always a hit and is pet-friendly as well, making it a great spot to grab a bite to eat on the way back from a hike with your pup.
Bin22
200 W Broadway, Jackson, WY 83001
Taking guests on a journey through the flavors of Tuscany, Bin22 undoubtedly offers one of the most remarkable dining experiences in Jackson Hole. Conceptualized based on restaurants and eateries throughout Europe, this classic hotspot allows diners to eat on-site or purchase their favorite items to bring home in their gourmet wine shop and market. The tapas served are simply delicious, and the staff loves recommending beverage pairings from their rotating selection to personalize the meal for each diner. The vibe is sophisticated while still casual, making it a perfect spot for a romantic date or a dinner with friends.
Gather
72 S Glenwood St., Jackson, WY 83001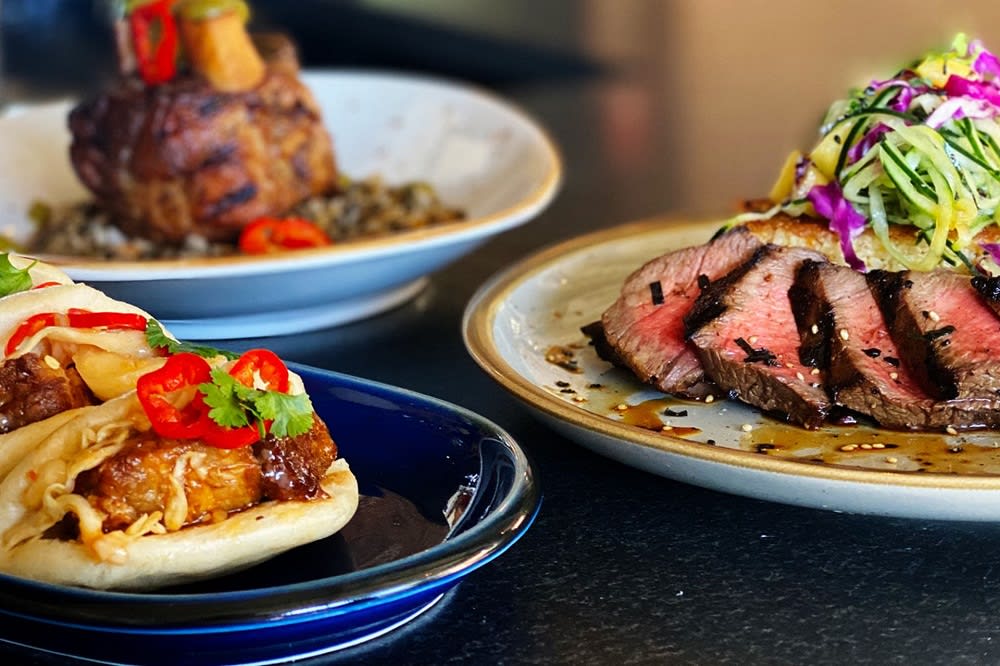 Photo courtesy of Gather
With an upscale setting and mouth-watering American dishes served with an innovative spin, Gather is one of Jackson Hole's best gems. Their steaks are simply phenomenal and cooked to perfection in every order, and other classic menu staples, such as hearty burgers and slow-braised ribs, are some of the best in town. They also serve no shortage of original meals that they put their own distinct spin on, like elk bolognese and Korean marinated wagyu. Their creative cocktails, along with a great beer and wine selection, compliment their dishes wonderfully, so order a drink, kick back, and prepare for a superb dining experience.
The Kitchen
155 N Glenwood, Jackson, WY 83001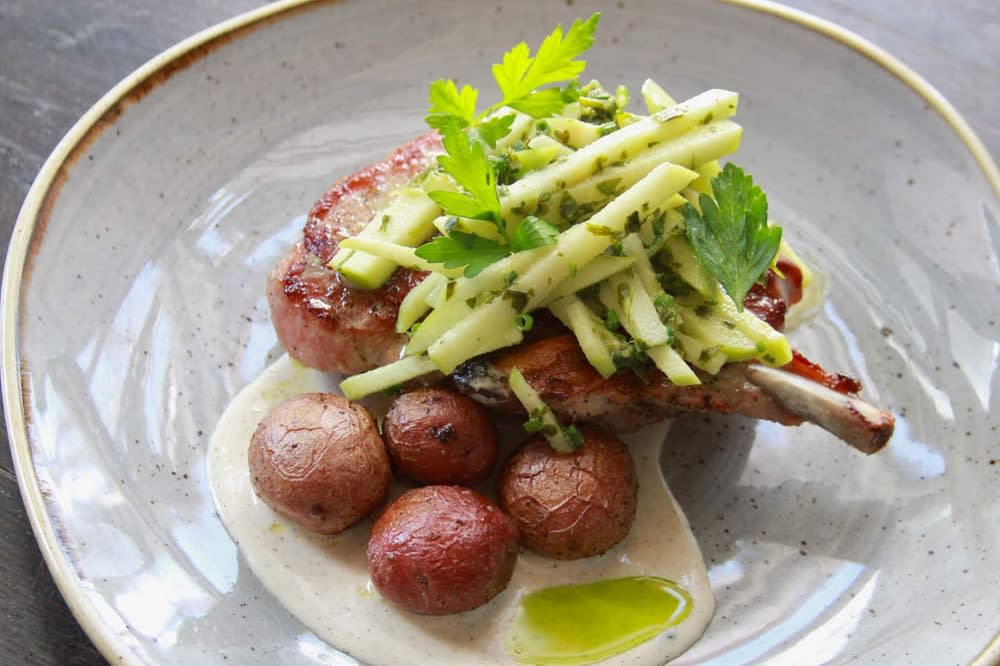 Photo courtesy of The Kitchen
As a modern and contemporary eatery with a twist of tradition and an air of elegance, The Kitchen is a go-to spot for many Jackson Hole residents. Its architecture and decor are simple and minimalistic while still remaining stylish, and the hip vibe it offers makes it an awesome spot to unwind over a meal. Many global influences are found throughout the menu, such as the incredible Korean barbecue-glazed short ribs that are a favorite among many. They also pride themselves on using seasonal ingredients, providing the freshest dishes for every meal. The open-kitchen layout that allows guests to watch the chefs as their meals are prepared adds to the excitement and anticipation of receiving each dish. The beautiful design of the space, equipped with an outdoor patio for summertime, makes it an amazing place for every season.
There are plenty of spectacular restaurants throughout Jackson Hole, and deciding which one to eat at can be a tough choice. While The Blue Lion, Café Genevieve, Bin22, Gather, and The Kitchen are top-rated options that always guarantee a good meal, an abundance of outstanding options are available to hungry residents and visitors.
With so many fun activities throughout the region and a delectable culinary scene on top of it, the Jackson, WY, real estate market is always hot. There's a high demand to join this lovely community, so buyers need to move fast.
If you're looking for property in the region or are trying to sell your home, set yourself up for success by contacting
Colby Murphy
today. As one of the top Jackson Hole real estate associates with years of experience assisting buyers and sellers throughout the community, Colby has a history of closing deals on properties in the local
neighborhoods
, including many Jackson Hole luxury homes. By working with a skilled professional with expert insight into the region's housing market, you'll have the competitive edge and insight needed to reach your real estate goals.
*Header Photo courtesy of Unsplash