There's a long list of reasons why a Jackson Hole luxury homeowner might need more space. For starters, a growing family, new hobbies or activities, elderly parents who need full-time care, or maybe a work-from-home schedule that requires secluded office space.

Whatever the reason, if you're finding it hard to make space for the people and possessions in your life, it may be time to upgrade to a larger home — or maybe a larger plot of land.
A Growing Family
Having kids requires more living space for their sake — as well as separate space for "adulting." Families often try to stay in the house they started with, opting for renovations, offsite storage, and for kids to share bedrooms. However, upgrading to a larger space can make for more comfortable living, without the time and energy commitment of large renovations.

Sometimes, of course, there are financial restrictions that will inhibit someone from upgrading, but there is no money better spent than on getting that additional square footage to make life a bit more spacious. In Wyoming, there's currently a wide variety of Teton Village homes for sale and Jackson Hole luxury homes to accommodate the extra space families need — and selling your home now is almost certain to deliver a high-profit margin.
Working From Home
With more people having the flexibility to work from home, many have found they require dedicated office space in order to focus. It can be difficult to balance a room in which there are two primary functions, such as a bedroom and an art studio, or a living room that also acts as an office. Upgrading to a home with another bedroom (or other bonus room) in order to compartmentalize the working life from the rest of life at home can make everyone in the family more comfortable.
Outdoor Space
Another way to outgrow a home is by having limited outdoor space. For example, with boundless energy and the need to work it all off, if kids growing up don't have enough space to run and play safely, family time can feel claustrophobic. It's for this reason that you may want to think about a larger lot size with a bigger backyard to give the kids space to move and create their own fun. This will also compound the benefits of having a quiet, at-home office space to focus on your own work.

Despite their indulgent price tag, Jackson Hole luxury homes and Teton Village homes for sale offer a wide variety of outdoor amenities, especially when compared to major urban areas. And with a growing family will often come other additions in the form of pets. In particular, dogs need outdoor space to live well, and you can benefit everyone in the family for years to come by investing in your own piece of Wyoming's natural environment.
The Bathroom Situation
When raising kids, bathrooms can become highly guarded spaces — especially among teenagers. Whether it's getting ready for school each day, or going off to hang out with friends, your kids will need time and space in the bathroom, as well as a willingness to share. Of course, adding more bathrooms is a luxurious way to work around this territorial issue between kids. Having more space in your home for everyone to use a bathroom, simultaneously, is an often overlooked luxury in the process of upgrading your home.
Adding bathrooms to your existing home is expensive, but will also provide a high return on investment upon selling your home. Likewise, upgrading to a larger home with more bathrooms all but guarantees a good future resale value, but requires no stress over remodeling, and provides the pleasant benefits of happier children in the meantime.
Kitchens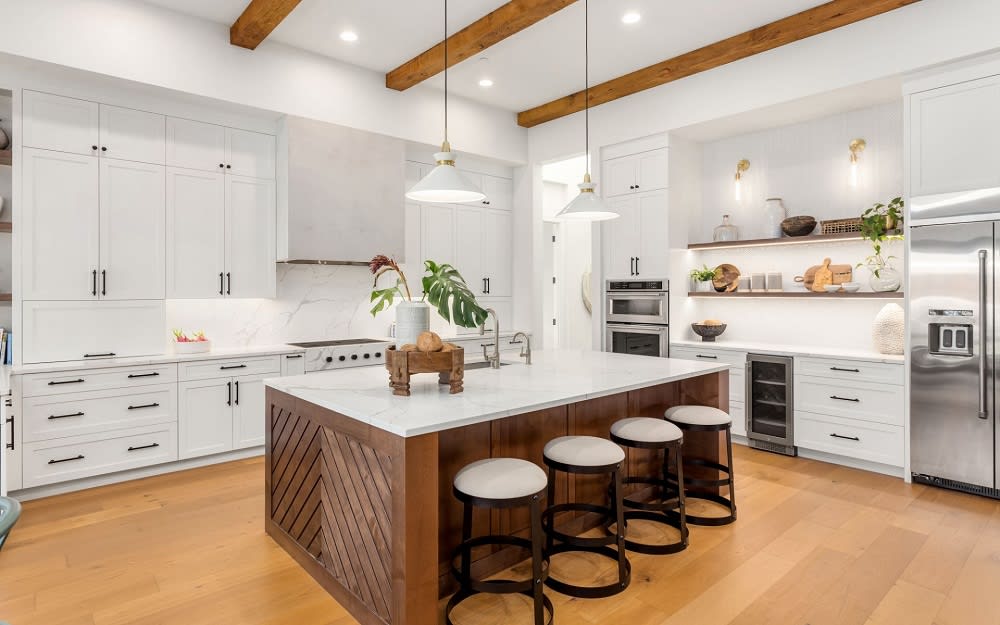 Not all decisions about upgrading to a new Jackson Hole luxury home come down only to pure square footage. It's perfectly possible to have the exact same square footage in a new space but have the house serve the demands of your family in a much better way. Kitchens are a good example of this phenomenon. A better kitchen layout can yield more efficiency, more enjoyment, and more storage without being much larger in terms of space. Upgrading to a newer Jackson Hole home for sale can provide enhanced amenities and livability, without demanding a remodel of your current space.
Ready to explore Jackson Hole luxury homes?