Many tourists have Grand Teton National Park at the top of their bucket list for the breathtaking views of the mountainous landscape. To feel the crisp air at the top of Signal Mountain is a surreal experience that is unforgettable.
Teton Village real estate has been a highly sought-after locale over the years due to the unique shops, wholesome family activities, and countless epic hikes within reach throughout the area. Teton Village houses for sale go for
$4.3 million
on average, as people from all over the world often fall in love with the one-of-a-kind town and don't want to have to leave it.
If you are visiting for the first time, take advantage of all of the
fine dining
options throughout Jackson Hole and the signature
activities
tourists can't get enough of.
But most importantly, don't miss out on the best hikes Grand Teton has to offer.
Best beginner trails
Many people are intimidated by the thought of hiking if they don't have much experience. If this is you, there are several hikes to choose from that still let you take in all the natural beauty. Here are just a few:
Taggart Lake Loop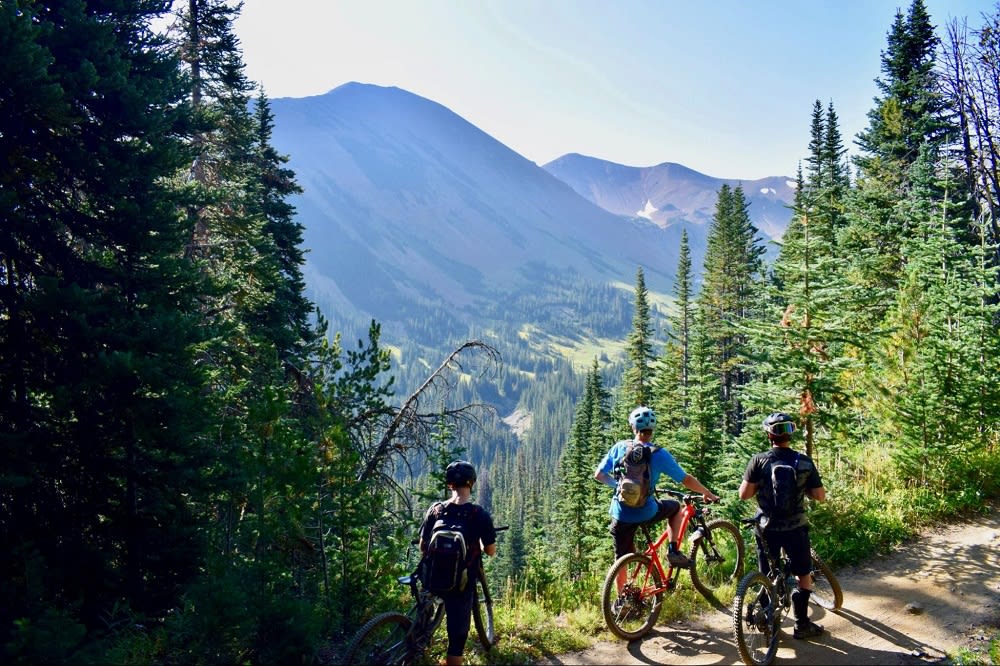 Photo courtesy of Unsplash
Taggart Lake Loop is an easy, tranquil route that will take about
1.5 hours
to complete. Many adventurers love to come here for horseback riding, bike riding, or to take their time traveling on foot and enjoying the scenery. One of the things hikers love most about this trail is the stunning reflection of the mountains on the water.
Inspiration Point to Canyon Trail Loop
This
top-rated, popular hike
is family-friendly and best to begin earlier in the morning to beat the crowds. It requires a boat ride to get to, which only adds more beautiful angles of the scenery to take in. On the trail itself, you'll encounter the stunning Hidden Falls waterfall and Jenny Lake. The hike will take around 1 to 1.5 hours to travel the 2.5-mile distance.
Moose to Jenny Lake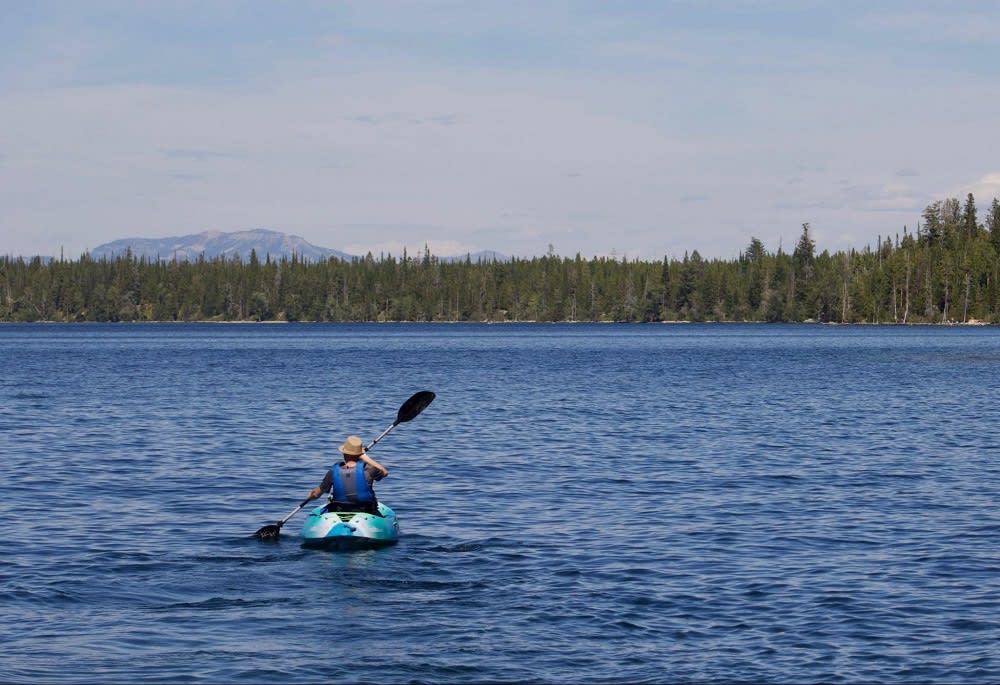 Photo courtesy of Unsplash
Many people appreciate how well-maintained the
Moose to Jenny Lake
trail is, making it the perfect spot to rent an e-bike for a bit of relaxed exploration. Although it is an easier trail, it will take around 5 hours to complete. Yet, it is worth every step of the 15.8-mile distance. You will be snapping pictures of the jaw-dropping views all along the way. You may even see some bears off the trail!
Trails for the intermediate hiker
For those who want to push past their fears but aren't ready for a hard hike quite yet, check out these favorites:
Phelps Lake
In just three hours, you can walk beside
Phelps Lake
while taking in the views of Death Canyon and the southern end of the Teton range. There is a 1,060 ft. elevation gain, but it shouldn't be too strenuous for the intermediate hiker. This is a popular route for backpackers and campers to take, so you may meet new friends along the way. Furry friends, however, are not allowed on this trail, so your dog will have to sit this one out.
Bear Paw and Trapper Lake Trail
Travel through the shores of String Lake to reach
Trapper Lake
, surrounded by a serene meadow. You will get to see the slopes of Mount Moran and possibly even some wildlife as well. There are only 460 feet of elevation gain, but the trail is 9.2 miles long and will take about 4 to 6 hours to complete.
Cascade Canyon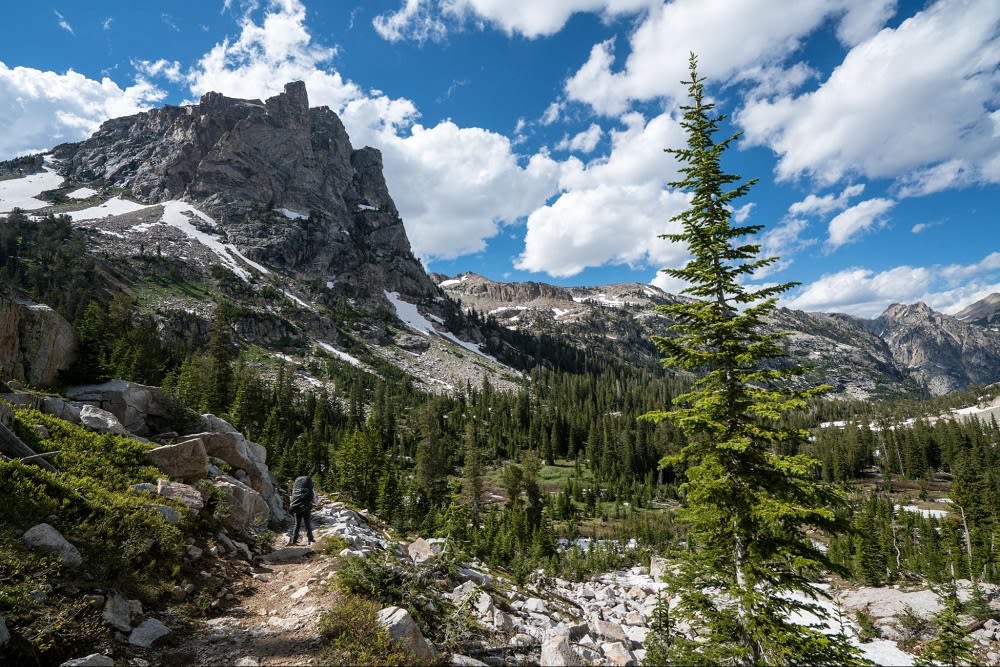 Photo courtesy of Unsplash
On this trail, you get to pass through several wild berry patches and the Hidden Falls, and you'll take in the wonders of Jenny Lake (the second-largest lake in the Grand Tetons). To complete this
route
, you'll hike 10 miles roundtrip with a 1,110 ft. elevation gain.
Challenging (but worthwhile) trek trails
The more challenging the hike, the richer your experience of Grand Teton National Park. These trails are for those who want to experience the Tetons to the fullest:
Death Canyon Trail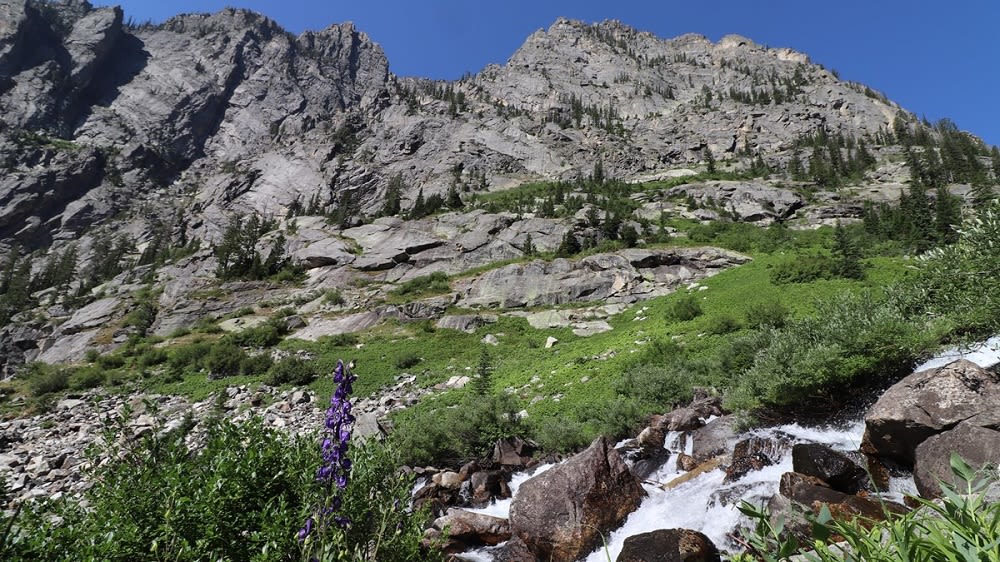 Photo courtesy of NPS
Put your muscles to the test with this steep, 2,400 ft. climb to
Static Peak Divide Junction
. You'll walk through winding forested trails and ascend rocky paths to reach the top. At the peak, your efforts will be rewarded with stunning views as you look down at Phelps Lake while being surrounded by the peaks. This trail can take anywhere from 4 to 6 hours, depending on your pace.
Surprise and Amphitheater Lakes Trail
In this 5 to 7-hour
hike
, you get to see up-close views of Middle Teton, Grand Teton, and Mount Owen. The 10.5 miles of hiking and 3,050 ft. elevation gain provide the backdrop of your dreams as you overlook Glacier Basin. It is common to see black bears along this route, so make sure you have your bear spray on hand.
Paintbrush Canyon Trail
This hike can be done in one long day or broken up into two or three days, depending on what you prefer. It is best to start as early as possible to avoid the afternoon thunderstorms you often see in the
Paintbrush Divide
. You will travel 19.7 miles roundtrip with a 3,975 ft elevation gain. Since you will be in grizzly country, it is best to plan to hike with a group.
What to bring on your hike
Illustrated Grand Teton National Park map
A group of three or more people
Weather-appropriate clothing
Hiking boots
Hiking backpack
Bear spray
First-aid kit
Knife or multi-tool
Sun protection
Extra water (plan enough for 10 fl. oz. for every 20 minutes)
Extra food (at least a day's worth of food)
GPS device
Best time to visit
To get the most out of your trip to Grand Teton National Park, it is best to visit these trails between
mid-May and late September
. Once October hits, many of the activities and roads will be shut down due to snowfall, limiting your options. However, many people still enjoy skiing and snowshoeing in the park throughout the winter.
Ready for more of Teton?
If you feel that this area has become more than a place to visit occasionally or experience once in your lifetime, consider one of the
Teton Village houses for sale
for your vacation home or primary dwelling. Contact local expert
Colby Murphy
to learn more about your options and begin your search process in this incredibly scenic part of Wyoming.

*Header photo courtesy of Unsplash